Free code 39 fonts without restrictions can be hard to come by.
We're offering one in this blog post right here:
If you'd like to know how a barcode font can help your business, read on!
What is a Code 39 (also known as Code 3 of 9) barcode font?
A barcode is just a visual representation of data that can be read quickly by a computer. Think of it like a nickname that a scanner reads and translates into text on the screen.
A Code 39 barcode is just a standard symbology (format) that most barcode scanners can easily read. It was named Code 3 of 9 since, initially, you could only use 39 characters (the 26 letters in the English alphabet, numbers 0-9, and some special characters such as "-" and ".").
Why should you set up a barcode system?
Code 39 barcodes are the simplest and easiest to use when creating an internal barcoding system at your small business.
Barcodes also scale well as your business grows. In fact, Code 3 of 9 barcodes are heavily used in the automotive industry, as well as the U.S. Department of Defense. If you'd like an idea of how to get started with barcoding, we've made a quick video on how to set up a barcode system.
Why is a barcode font useful?
There are many ways to make barcodes; however, using barcode fonts is probably one of the easiest ways to get started. All you really need to create a barcode using a font is a text editor such as Microsoft Word and a few clicks to install the font.
And, of course, once you can easily create barcodes, you're on your way to creating an efficient system for tracking and managing your inventory.
How do I use the Code 39 barcode font?
If you've ever installed a font for use in a design or for document creation, then you already know how to install a barcode font.
After you download the font, you simply double click it and press the install button. Just like this: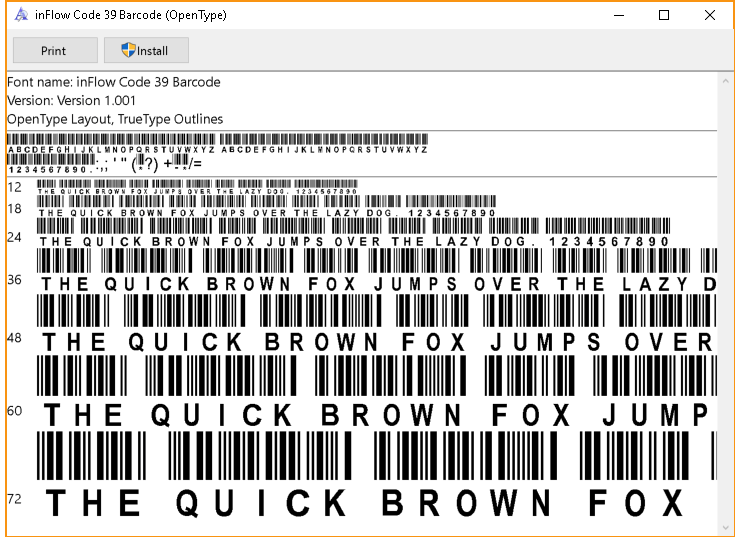 Next, in any program that uses fonts, such as Microsoft Word or Excel, you can change your data into a barcode by selecting "inFlow Code 39 Barcode" as the font. It's like turning any program into a barcode generator!
For example, if you wanted to change "1321MTLW" into a barcode, you would first write it out with a regular font, highlight it, and then change the font to "inFlow Code 39 Barcode". Here's what it looks like: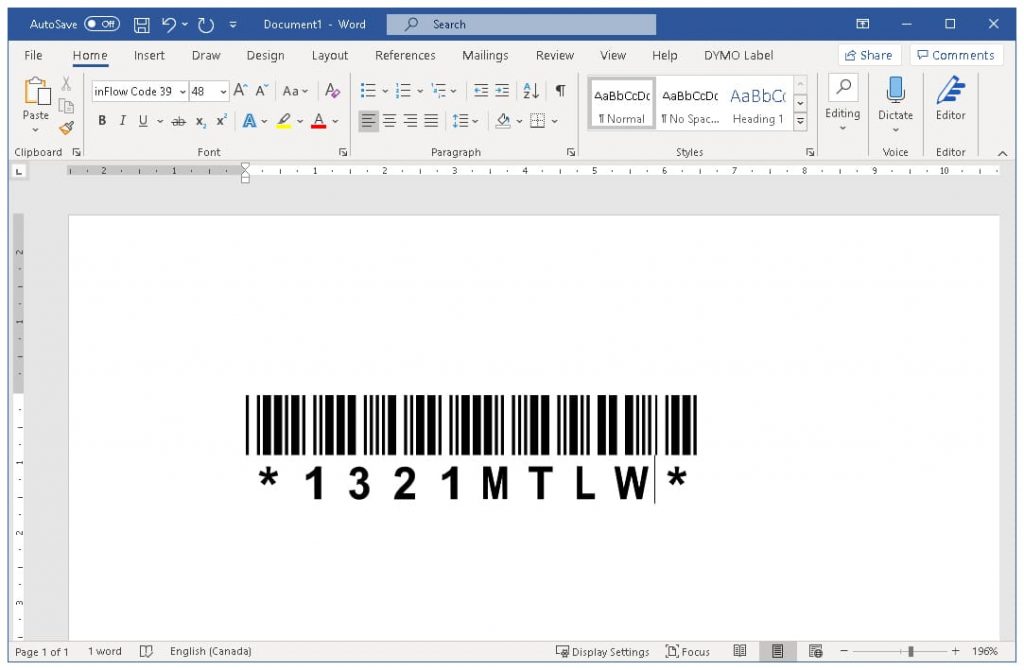 It's also important to note that you must add an asterisk (*) to the beginning and end of your data. This is because scanners look for this character to know where to start and stop reading the barcode.
So, for example, to create a barcode of "1321MTLW," you would enter "*1321MTLW*" in your word processor.
It's also important to note that the * characters won't show up when the barcode is scanned. So for example, scanning "*1321MTLW*" as a barcode will simply return "1321MTLW."
Another good tip for finding the font quickly in the font list after it's installed is to start typing "inFlow Code 39 Barcode" when your font list is selected. This way, you can avoid having to scroll through your font list.
How do I put barcodes on my products?
To make the barcode font more useful and actually get barcodes on your items, you can print them out using sticky label paper. We've found the Avery series of label stickers is affordable and easy to set up. They have many options for both laser and inkjet printers.
Simply use the template provided by the manufacture (typically in Microsoft Word) and format your labels accordingly.
Now, all you have to to do is peel and stick the barcodes to your products!
How do barcode fonts fit in the big picture?
Using barcode fonts is just one step in a series to start tracking and managing your inventory more efficiently. Below are all the steps you need to get an inventory tracking system started:
Assign your items a product code.
Turn product codes into barcodes by using the Code 39 barcode font.
Print those barcodes using labels or a special barcode printer.
Use inventory software so your computer can use barcodes to manage your inventory.
Check out our free e-book, too!
If you're looking for more detailed information on how to get a complete barcoding system working for your business, you should download "Barcode Your Small Business". It's a free PDF book written with you in mind — the small business owner who wants to learn barcoding quickly and efficiently without being bogged down by technical jargon. It will walk you through all the steps above and more. Plus, it's a short read and straight to the point.
Click here to download your copy!
Looking for inventory software that's barcode friendly?
Our free barcode font is great for helping you create labels quickly and easily, but you'll want to use those labels with inventory software that can read them. That's where inFlow Cloud comes in.
We've designed inFlow with barcodes in mind, so you can scan them straight into purchase or sales orders to speed things up. inFlow Cloud also integrate with DYMO printers, so you can quickly print labels for all your current stock, or newly received stock.